February 10, 2022
Press Contacts
Simon La Barrie
+1 (949) 374-8953
Veronica Esbona / InGear
9546293302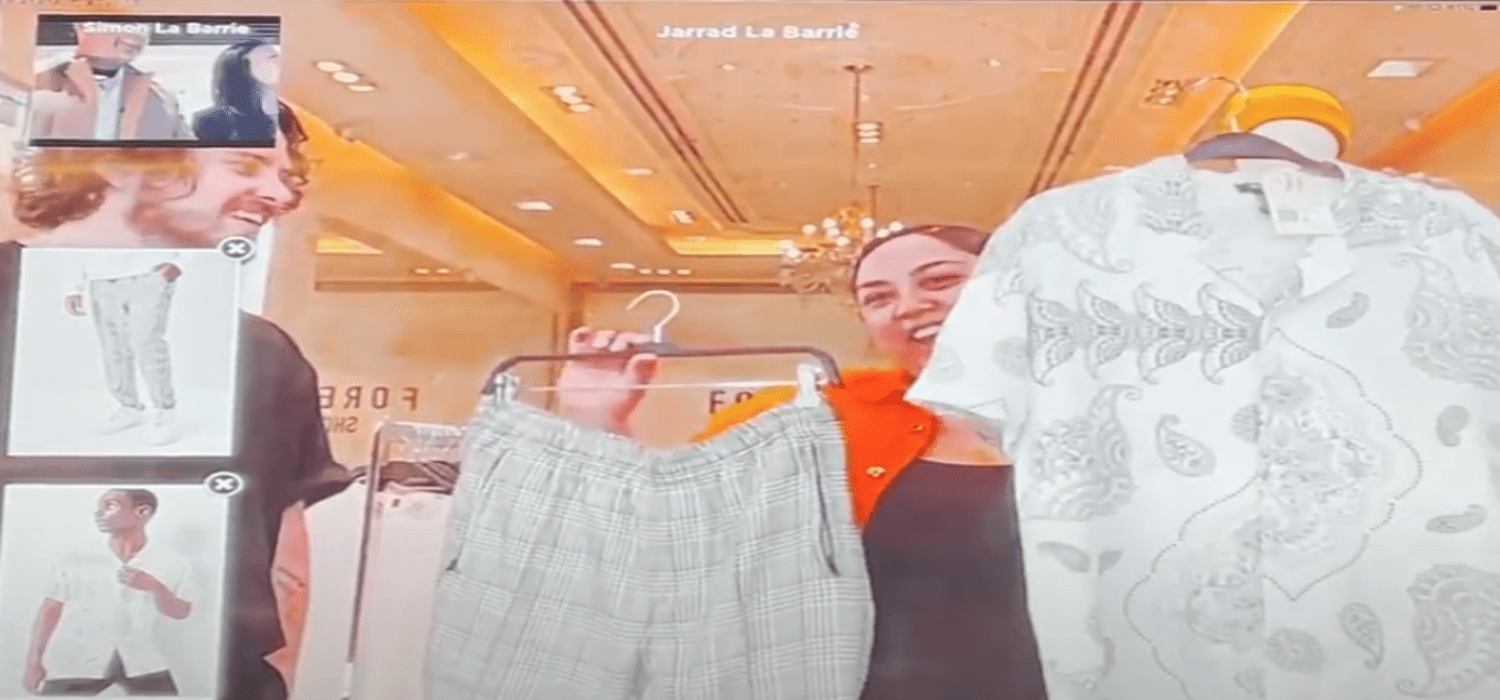 SAN CLEMENTE, Calif. —
Forever 21 Demonstrated the Interactive, Engaging, and Satisfying Features of the O4S Tech App During Live-Streaming Shopping Event
Open4Sale Technology (O4S Tech), the only complete live video and live-streaming shopping experience from anywhere in the world to anywhere in the world, today announced that its all-in-one, globally patented video and payment shopping app is set to take the retail industry by storm. During a live demonstration on Jan. 18, the innovative live video and streaming app connected attendees in Manhattan to a Forever 21 store all the way in California at the luxury South Coast Plaza, allowing them to watch, interact, discover, and purchase merchandise all in one video call. The event marked O4S Tech's worldwide debut after a years long conceptual phase that saw incredible success with several U.S. retailers and is now ready for prime time.
"Online retail store sites are static and incredibly limited in providing a personalized shopping experience to customers, which results in an extraordinary loss of sales," said Simon La Barrie, CEO and founder of Open4Sale Technology. "With this event, we were able to show members of the retail industry, press, and influencers how O4S Tech completely reimagines the e-commerce experience. When you bring together video, live interaction, and integrated payment technology in one place — one screen — customers can see products, ask sales associates questions, and feel much more confident to make purchases, which greatly reduces the number of costly returns for retailers."
"I was blown away with how the Open4Sale Technology app made you feel like you were in the store. This app could have saved me the time and money I recently spent purchasing a couch online that was the wrong size, fabric, color, quality — nothing like how it was pictured on the website," said Anita Lee, business owner of Le Chien Bleu NY. "It's incredibly easy to navigate and fun. Plus, I can shop anywhere in the world, including stores in China, where I'm from, which only adds to the personalized experience."
A Personalized Shopper Experience Like No Other: As more customers choose to shop online, they still yearn for the personalized assistance and up-close look at merchandise they would get inside a brick-and-mortar store. O4STech's easy-to-use, all-in-one app merges the online and physical store-shopping experience by delivering a proprietary, patented technology platform that combines live chat, video, streaming, and instant payments that integrate to existing retail POS and e-commerce back-end systems. O4S Tech already has been granted U.S. and international patents and trademarks (Australia, China, Singapore) and is compliant with U.S. and international banking regulations and global payments. Additionally, patents have been filed for over 200 country jurisdictions, including Europe.
During the Forever 21 event, in-store associates were able to leverage O4S Tech's high-quality video-streaming technology to showcase merchandise available in the store to attendees virtually. Simultaneously, the app displayed more information on each item like shoppers would typically see on a website. In this manner, they could see goods in real time, ask questions, select the item and size, and add it to their shopping cart before checking out safely and securely — all in the same window without ever having to navigate away from the app to see the retailer's website or to pay. Feedback from Manhattan was that the experience was fun and exciting and that the retailer's customer service was amazing.
Next-Level Live-Streaming Video Shopping Events: The success of the intelligent retail software was years in the making, backed by O4S Tech's world-patented technology. In 2008, the initial concept design won the first Australian New Innovation Award. In 2019, a proof-of-concept app called HelpJess included a worldwide social campaign and live event, where retail giants Nordstrom, Forever 21, and Urban Outfitters reached hundreds of shoppers worldwide. In 2020, thanks to the maturation of technology that aligned with the company's vision, O4S Tech held its first flash-sales event with live streaming and e-commerce payments via the app. Over 2,000 worldwide shoppers attended the 30-minute event, producing $50,000 in sales! What's more, there were zero returns from the event, an unheard-of proposition when the typical return rate is up to 15% of all online purchases.
The Future of Retail Is Here: O4S Tech has created what no other technology company has achieved before: a proven platform that's ready to bring together consumers and retailers in a live, online-shopping marketplace via a one-stop app. Retailers can turn profit in less time and build stronger brand connections with a community of U.S. and global customers while also delivering a satisfying shopping experience that caters to their unique needs. Unlike static websites, where customers don't know or trust what they're getting with only pictures, O4S Tech delivers greater visualization and interaction for satisfied shoppers, who will be eager to return again and again and revisit the brick-and-mortar store as a valued and loyal customer.
"For the demo event, Jarrad La Barrie and Marilyn Orense were the retail store hosts at our Forever 21 South Coast Plaza store," said Brad Sell, chief financial officer of Forever 21. Sell also serves on the board of Open4Sale Technology, as he sees this technology as the future of shopping while helping retailers increase sales. "Event attendees viewing from New York commented that Jarrad and Marilyn made shopping fun and exciting while providing exceptional customer service — making the live-video event more appealing than shopping online alone."
After years of unwavering commitment and seed investors who believed in his vision, La Barrie confirmed the company is in its next round of funding that will scale the technology globally. Now all retailers will be able to open their stores up to allow customers to shop from anywhere.
Learn more at www.o4stech.com and watch the YouTube video.
###
About
Open4Sale Technology's platform delivers increased online traffic and revenue to U.S. retailers, and the ability to essentially expand globally with a seamless, interactive, trustworthy app that connects to retailers' inventory systems. O4S Tech helps retailers and their shoppers merge the online and physical store-shopping experience by delivering a proprietary technology platform in an easy-to-use, all-in-one app with live chat, video, streaming, and instant payments that integrate to existing retail POS and e-commerce back-end systems. The result is retailers that thrive by connecting and selling to shoppers anywhere in the world in a seamless and personal way. Shoppers are assisted by a real store associate and can choose from their favorite merchants, drag and drop selections, group-shop with friends and family, attend special events, and much more.