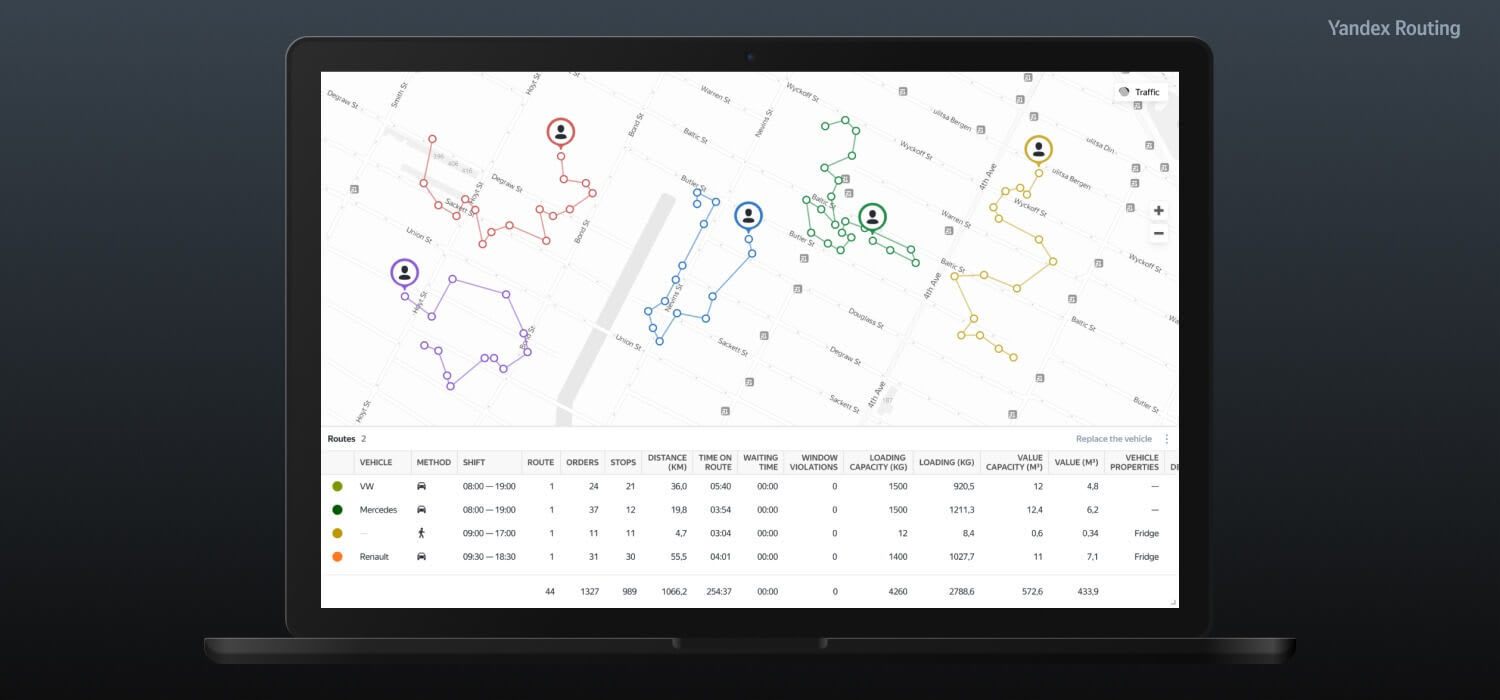 MOSCOW —
Yandex has begun operations for Yandex.Routing, its logistics optimization software, in Turkey, partnering with local e-grocery delivery company istegelsin. The agreement aims to increase the on-time delivery rate to 99% using fully automated route planning for delivery vehicles throughout istegelsin's entire dark store network.
Yandex.Routing provides cloud-based delivery management software solutions that makes use of traffic data to automatically create an optimal route for each delivery vehicle in a fleet. It quickly determines the best way to distribute target locations to vehicles according to any operational restrictions (like the time-sensitive delivery of frozen food, for example). In the fast moving consumer goods industry and the retail industry at large, this not only helps prevent loss of delivery time due to heavy traffic or closed roads, but also increases the number of orders per slot, scales operations without a decline in delivery quality, and offers affordable service to consumers.
istegelsin is Turkey's first pure online supermarket, it's become an early adopter in the region to implement Yandex.Routing across its operation in Turkey. The solution is currently integrated into all of istegelsin's dark stores for automatic route planning. The company aims to increase the rate of on-time deliveries to 99% as well as reduce the mileage traveled by 15% translated into less carbon emissions.
"Courier-based businesses simply have to operate efficiently in order to meet customer expectations, and grocery delivery has emerged as an essential niche to fill. Our data shows, making the last mile 15-25% more efficient results in a 5% margin increase," said Danil Shelekhov, CEO of Yandex.Routing.
Now retail and e-grocery businesses in the Turkish market have a software-based solution for making orders more cost-efficient, reducing delivery mileage, completing deliveries more quickly, and supporting a wide range of operational models from planned-to-date to same day and express scenarios – whichever matches their future plans.
###
About
About Yandex.Routing
Yandex.Routing is a software solution to boost efficiency and optimize resources spent on last mile logistics operations. Built on the back of more than a decade of proprietary mapping technology, traffic data, and software development, Yandex.Routing serves the fast-moving consumer goods space by reducing route planning time, eliminating manual processes, improving courier efficiency, reducing logistics costs, enhancing the customer's delivery experience, and making the entire supply chain more transparent.

About istegelsin
istegelsin launched in 2019 with the vision of being the smartest, most affordable destination for online supermarket shopping. It uses pioneering technological infrastructure and customer-oriented service to deliver every home need to the consumer as comfortably as possible. Customers can order fresh fruits, vegetables, and meats that are delivered in cold storage straight to their door at their desired delivery time without breaking the cold chain. The company delivers thousands of products to users in 81 Turkish provinces. The istegelsin mobile app can be downloaded from the App Store, Huawei Store, and Google Play. istegelsin is backed by venture funding of $30 million from Yildiz Holding.